Are you a creative professional and dream of owning your own live/work loft space?
Have you imagined being part of an artist centered community?
I am selling my Live/Work artist condo!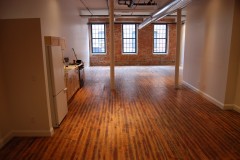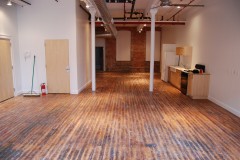 For Sale: Huge 1280 square foot (23'x52') affordable, subsidized artist live/work condominium now available at the historic Monohasset Mill at Eagle Square in Providence, RI (532 Kinsley Avenue.) Beautifully renovated with loft style exposed bricks and 12 foot ceilings, this condo offers the amenities of loft living coupled with enough space to house a studio alongside your living space. Amenities include a deeded parking space, refrigerator, stove, central air conditioning, giant ikea wardrobes, dishwasher hookup and a washer/dryer hookup. The Monohasset Mill community is also a one of a kind, unique blend of artists and artisans and is one of the few artist only communities in the country.
The Neighborhood: 2 minute walk to a grocery store and various shops. 2 minute walk to a Green Line Trolley stop and easy access to the whole of Providence. 7 minute walk to historic Federal Hill and the abundant variety of shops and restaurants. Immediate access to the Woonasquatucket River bike Path. Easy driving access to Rt. 95.
Cost of the Unit: $135,000
Qualifications: This unit is offered as a subsidized/affordable unit with an income restriction of approximately $40000 for a single person and $46,850 for a couple. Your monthly mortgage payment also cannot exceed 30% of your Adjusted Gross Income.
You must also qualify as being either a visual artist, performing artist, literary artist, filmmaker, architect, designer or art educator in order to purchase this unit (one of the buyers must be involved in a creative art field of some sort.)
Contact Jason @ jobrockert@hotmail.com or call 401-831-6738 for more information.