Although I promised this wasn't going to be a "this is how my week went" type of blog, I do think it appropriate to impress a sense of what a week is like for context of the essays to follow.
With the notion that a scientist cant ever be truly objective in witnessing phenomena because in the act of witnessing they inevitably influence what they are looking at I embark on a similar test of a typical week of art and career activities. I bring up the previous idea because I already feel an almost tidal pull towards good behavior in completing the goals I set out for this week. I started writing down goals about a year ago after a career seminar in which the following study was cited;
In a 1979 survey of 1000 graduating Harvard students, 84% of them had no particular defined goals. Thirteen percent had goals, but they weren't in writing. Only 3% of the students had written goals. Ten years later, the very same students were surveyed again. The 13% who had goals, but not in writing, earned, on average, twice as much as the students without a plan. But the 3% who had written goals earned, on average, 10 times more than the other 97% without written goals.
Will this week be typical? I think typically ideal might spell the attitude I will probably perform under. I say that acknowledging the fact I am starting this essay five days before the week starts with a weekly goal list for next week already fleshed out. My typical week hasn't started yet and it's already well planned – not typical… Maybe all of my bad habits will get in the way of pressure to be productive and this week will actually be typical.
The goals with a little explanation are;
Work on contemporary drawings (I have begun to draw more lately and the RI State Council on the Arts offers a drawing grant this coming period so I am hoping to produce enough good pieces to apply)
Work on Auction Piece (There is a charity auction I participate in each year and artists shares the proceeds with the charity so with my bank account dangerously low I need to produce a good piece that must be finished by September 21)
Work on blog entry (this essay)
Plan for classes ( I teach part time at RISD and I have two newish classes this semester, drawing and watercolor, and although I am familiar with both it has been awhile and the syllabi need serious updating)
Plan for lecture / demo (I was contacted out of the blue by the Foxboro Art association to do a painting demo next week and I have never done such a thing!)
Ok, I'll break down each day and see how it goes…
Sunday This is my last day visiting my fiancé in Delaware. We headed to the Brandywine Museum in Chads Fords, PA to see the Wyeth family. It's easy to forget how stunning Andrew Wyeth's work can be in person recognizing that hundreds of derivative artists (his own son?) have tainted his vision in attempting to copy it. I'm also reminded by Andrew and N.C. how important the little details can be in relation to the bigger picture. I forget that sometimes and focus too much on the grand in detriment to the small… The rest of the day is vacation with my fiancé and with this stop at the museum this trip just became a business expense!
Monday – Labor Day I begrudgingly left Delaware at 7:00 am for the (+/-) six hour trip up North. Plans to stop at the Yale University art Center and British Museum are thwarted, not by Labor Day, but by the insistence of museums to have Mondays off. The rest of the day is a waste as I'm exhausted from the drive and with four episodes of Star Trek Enterprise on Sci-Fi tonight – its not a bad little show – my day is finished. Tomorrow will be better.
Tuesday Early start at 6:30 and called my fiancé before her first day of student teaching (she is in Grad school in Baltimore finishing her last semester – long story – long distance) and I couldn't get a hold of her which is very disturbing because possibly A) she's overslept and will miss her class or B) something horrible has happened because she ALWAYS answers her cel phone or C) I don't have a third alternative that is at all rational so I start the day on edge. I found an older piece for the charity auction that, with a little work, will be a much better piece in the end than a freshly started blank canvas. Worked on that auction piece from about 9:30 – 12:00 and made some amazing progress. I hadn't touched this piece for a good long time and the objectivity of distance made the painting choices very clear.

Auction piece before and after

Amazing what some perspective can give. I'm a victim of wanting the idea (keeping things too blue on the left) to sing louder than the execution. In the words of Da Vinci, "It's an unfortunate thing when theory outstrips performance."
The rest of this day is a wash as the mornings non answer with my fiancé have me beside myself with concern and I spend the rest of the day doing things but not really doing anything (nothing else on the goal list got touched.) In the end my fiancé was sick and sleeping most of the day so my worry was unfounded.
Wednesday Great early start at 6:30… Ok, I woke up at 6:30 and drank coffee for an hour while mindlessly surfing the internet and started in for real at about 8:00. Most of the rest of the morning was taken up with writing this web log! I am still working out design and navigation issues and finishing some other essays and I hope the time spent on this blog settles into only part of and not the major part of a daily routine. The rest of the day until about 5:00 was spent getting preliminary work done for my teaching at RISD as well as the lecture / demo for next Wednesday. The hope was to jump into some drawing in the afternoon but I find it very difficult to multi task away from writing and preparing for class to making visual imagery. The mental energy to start the process of drawing is so huge when compared to continuing a day of writing that I succumbed quickly to the fear of starting and, well, didn't start. It hurts also that I haven't drawn for a couple of weeks. Starting up means full and undistracted commitment and having all my faculties vulnerable to risk and failure if the drawing is to be any good. I relate it to the analogy of a journey where you are able to purposely wander and search at the outset of your journey without the fear of being lost. When you find some direction worth traveling, that is the moment you become more deliberate in your choices. Imagine needing to get lost on purpose but knowing you need to find something worthwhile while you're lost. It's a strange process but one that leads to discoveries.
Thursday A wise man once said "you start your day with the hardest activity first because it will only get harder as the day moves along while the easy tasks generally stay easy." With this in mind I jumped into working on the contemporary drawings and after yesterdays chest clenching fear over starting I find they offer much less resistance than I expected (isn't that usually the case with fears?) I ended up putting in a full 8 hour day on two drawings and both are close to resolution.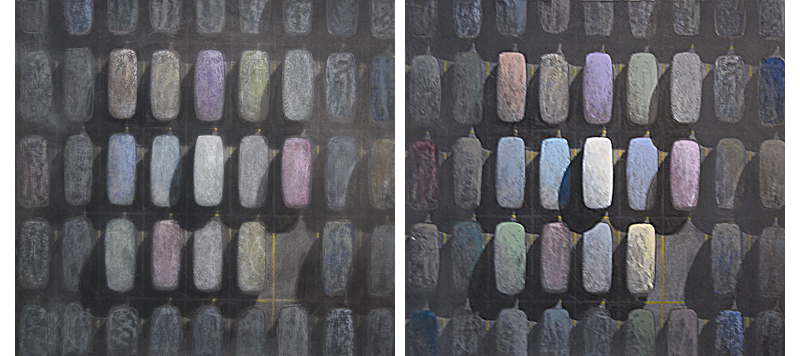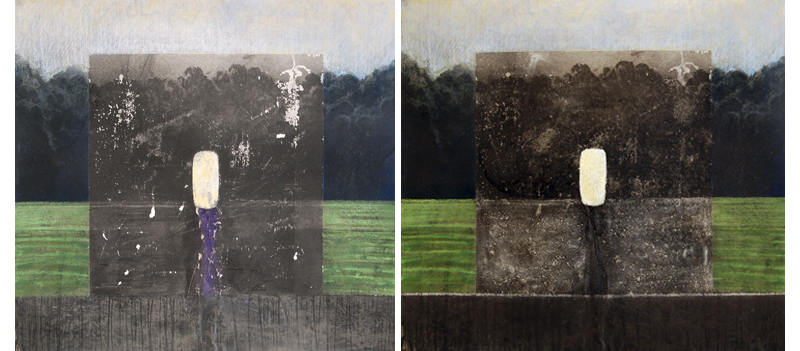 Drawings before and after (subtle differences but stronger pieces after…)
Friday Ug. 5:22 am is a bit too early even in an ideal world of early starters. I'm burdened with a physiology that won't fall back asleep once I'm awake so I started my day at 5:22 which means I have two hours to drink coffee instead of the usual one! The drawing got underway around 8:00 and I spent a good 4 hours working on yesterday's unfinished piece and also starting a new one and the progress is going well. Mornings are my most productive time with between 3:00-5:00 being the witching hour of productivity. Around 3:00 or 4:00 in the afternoon I am usually feeling humbled by my own limitations and that, coupled with isolation has the sensation of boundless potential that began the day leeching out of my spirit by the afternoon. A long lunch / nap and I am back in studio for a few more hours this afternoon as I am now avoiding a switch to class preparation much as I avoided an alternate switch a few days prior. I am just no good at multitasking in a single day and you'd think I could remember that as I plan my days! This evening I visited two different friends different shows in Warren, RI and had, as usual, a good time at an opening reception that is not my own.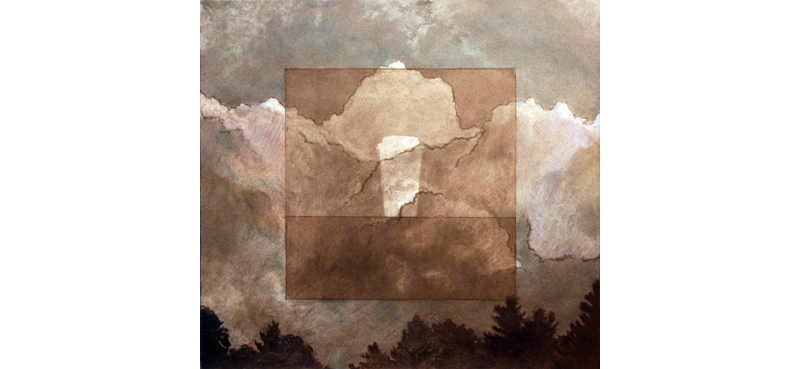 Drawing Beginning (yes its a coffee cup floating in the sky… This is what I mean about getting lost. You have a crazy idea that you really aren't sure will work or not and you need the freedom to do it and succeed or fail. The jury is still out on if I'm too lost on this one… )
Saturday Awoke at 4:36 am……. This time I had to fall back asleep until 6:30. My best guess is the impending start of school and my lack of familiarity with the new classes is weighing subtly on my mind (or not so subtly.) The morning is spent mostly on this blog and tying up some loose ends with bills and career stuff. I'm going to visit a friend's open studio this afternoon and in the late afternoon / evening we celebrate my Mom's birthday at her house.

A typical week? For the most part, yes. With school starting up next week and this blogging thing being a little unfamiliar, more of my time and energy was taken up by these issues than normal. Two and a half days of studio time making art is a little less than I would like but with the lost day on Monday and a family commitment on Saturday it's probably a better than reasonable amount of time. Four days a week of studio time is probably the average for the year with career and teaching days (and time off) taking up those other three days. Typical week? I did cross off most of my goals which doesn't always happen so I guess I did behave pretty well after all!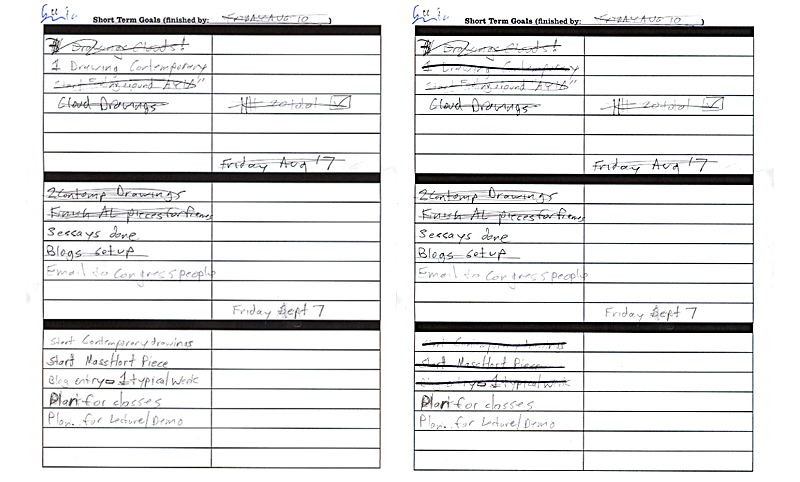 Goals before and after (with items crossed off!)